Frequently Asked Questions - Alliance Member
What learning experiences are available through Outcomes Academy Online?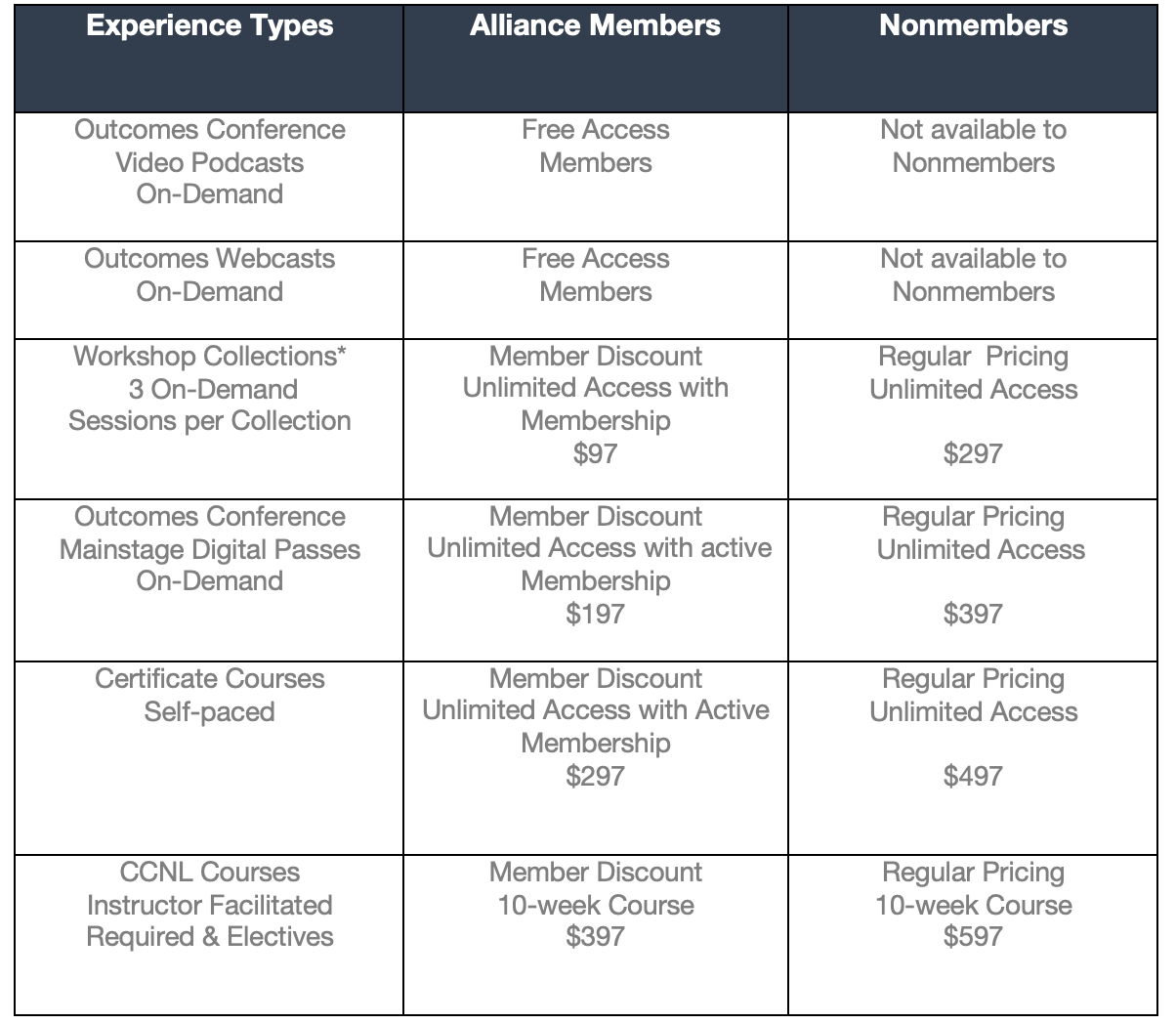 ---
I am a member of Christian Leadership Alliance. Do I have to create a new login to access information on this platform?

No. Your login credentials are the same as those you use to access the membership community platform via www.my.christianleadershipalliance.org
---
What content is free?
Outcomes Webcasts and the Outcomes Conference Video Podcasts are free to all Alliance members.
Outcomes Conference Mainstage Passes are free for all Platinum and Gold members - you will be able to access as soon as you register as long you have an active membership.
All other learning experiences are offered to members at discounted rates.
Nonmembers will be charged regular price. Please contact the Alliance Registrar at cla@christianleadershipalliance.org. The Alliance Registrar will set up credentials for you. Then you will be able to complete registration.
---
How do I access free content through this platform? How will this work?
All on-demand content (recordings) and live events do require you to access them using the registration button. If the content is free, you will automatically be registered and not be prompted to provide payment.
---
What will be available in my personal dashboard?
Your personal dashboard will show all learning experiences, courses, and events you register for through the Outcomes Online Academy. You can also access anything you registered for directly from your dashboard, at any time.
---
How do I access paid Outcomes Academy Online content through this platform?
Browse the catalog to view upcoming live and on-demand offerings. Then click the "Register" button to pay for your selected content.
All free content is only available to Alliance members, but you will still need to register to gain access.
---
Can I register someone else on this platform?
You may only register yourself for any experience or recordings via the Outcomes Academy Online platform.
---
Can I cancel my registration for learning experiences and courses?
Click here to review our refund/cancellation policy.
---
What are the system requirements for accessing a webcast?
Users must access on-demand recordings and live events from an up-to-date web browser (e.g., Google Chrome, Safari, Firefox, and Microsoft Edge) that supports HTML 5.
---
How is content organized? How do I find a specific course, webcast, etc.?
We recommend you search the catalog using the link on the home page. There are a variety of filters that will help you find the content and experiences you seek; You can easily search the catalog in four ways:
1. Category (our core nine tracks)
2. Content Format (live or on-demand)
3. Old to New
4. Type of Learning Experience
Note that any new learning experience types will automatically appear in the search filter.
---
What are the Interest Categories on my profile page?
All content is categorized by track and product type. On your profile page, you can indicate the level of interest for each of category and type offered. The feature page will then recommend content based on your rankings.
---
How long content be available via the Outcomes Academy Online?
Recordings will be available as long as content is deemed relevant for personal and professional leadership development. The Alliance will notify you immediately for any content that is scheduled to be pulled from the platform and an explanation for why it will no longer be available.
---
How long do I have to watch a webcast or Annual Meeting & Conference recording after purchasing it?
After registering for an Outcomes Webcast or Outcomes Conference Video Podcast, you will have unlimited access to it as long as you are an active member of Christian Leadership Alliance or if you have purchased it as a nonmember.
If we deem it appropriate to eliminate or pull content you are registered for, you will be notified immediately.
---
How long will I have to complete a self-paced course?
Self-paced course do not have an expiration date. Members can access their sessions as long as they are membership is active.
---
How is a self-paced course different from a live event?
Course registrants can start and move through the course at their own pace–pausing throughout–as they choose.
Live events are of a limited duration with a designated start date and time.
---
How can I access my certificate of completion?
Once you have completed a course, you may download and print your certificate of completion by going to the course and clicking on the "Certificate" button.
---
Do I have to finish the entire course to access the certificate of completion?
Yes, you have to complete the entire course in order to access a certificate.
---
If I have other questions that were not addressed in this FAQ, who should I contact?
| Access Date | Quiz Result | Score | Actions |
| --- | --- | --- | --- |